With an agreed Design or scope of works, Open Rationale will mutually agree with each customer, the integration services. This will most often include a range of deliverables including:
Integration plan,
Risk management, mitigation and contingency plan,
Management and support plans,
Sourcing solution components,
Building and testing solution components,
Training customer staff in the use and management of the solution,
Migrate data to be new solution ready,
Deploy and assimilate the solution into the existing environment,
Provide assistance to customer staff in utilising the new solution,
Retire old equipment if required, and
Project management including a communications plan.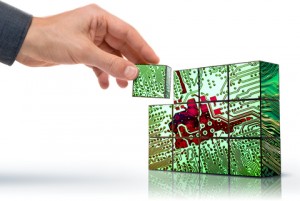 The Integrate services provided by Open Rationale can be summarised as plan, manage and execute. It is paramount to a successful solutions integration that all parties are aware of and have agreed to the integration plan. This will cover all the aspects mentioned above but more importantly, lay out in clear, unambiguous terms, what will be done and how.
Even with an agreed plan, success is never guaranteed. Open Rationale optimises the potential for success with an agreed management plan. This will entail a complete methodology for managing the project, identifying stakeholders and providing a communications and feedback mechanism between Open Rationale and the customer.
With these agreed foundations in place, execution of the plan can begin with confidence. Both parties have the knowledge required to commence, the vision of what will be achieved and assurance in the advantages to be gained.